Vol. III Issue I Spring 2005

Welcome to the inaugural online edition of Red Eft, a journal of horror, fantasy and speculative literature and art. Enjoy your visit to our Bog.

IN THIS ISSUE:
Fiction by Octavio Ramos Jr., Eric Stanway and David Daniel

Poetry by Tippi N. Blevins, Anne Madigan Murphy and more

Featured artist: Gay Tracy

STAFF:
Meg Smith, editor and publisher
Lawrence Carradini, online associate editor

CONTACT:

E-mail: redeft1@earthlink.net
Postal mail: Red Eft, c/o Meg Smith, P.O. Box 8797, Lowell, Mass., 01853-8797 USA

ISSN 1553-9210
Copyright 2005
by Meg Smith/Gekko Party Productions.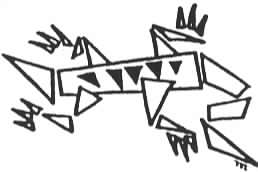 Logo by Jeffrey Thomas